7th August 2021
On 19th July 2021, I CAN South Sudan with funding from Oxfam IBIS embarked on the production of face masks in response to the second wave of Covid-19 in Uganda. OPM and UNHCR offered the Reception Center Hall in Bidibidi Zone 1 to facilitate this face mask production. The purpose of this face mask production is to develop the skills of the women and empower them to produce face mask to mitigate the impact of Covid-19 among refugees and host community in Bidibidi Refugee Settlement Zone 1
The Specific Objectives
The ten women (Refugees and Host) are skilled and able to produce face mask now and beyond the project period
The women are able to build mutual relationship, discuss common issues affecting them to find common solution and build a peaceful coexistence among trhemselves
To mitigate the spread and impact of covid-19 on the community
Target group The target beneficiaries of the training were primarily
Women with special need
Single mothers (8 Refugees and 2 Host Communities)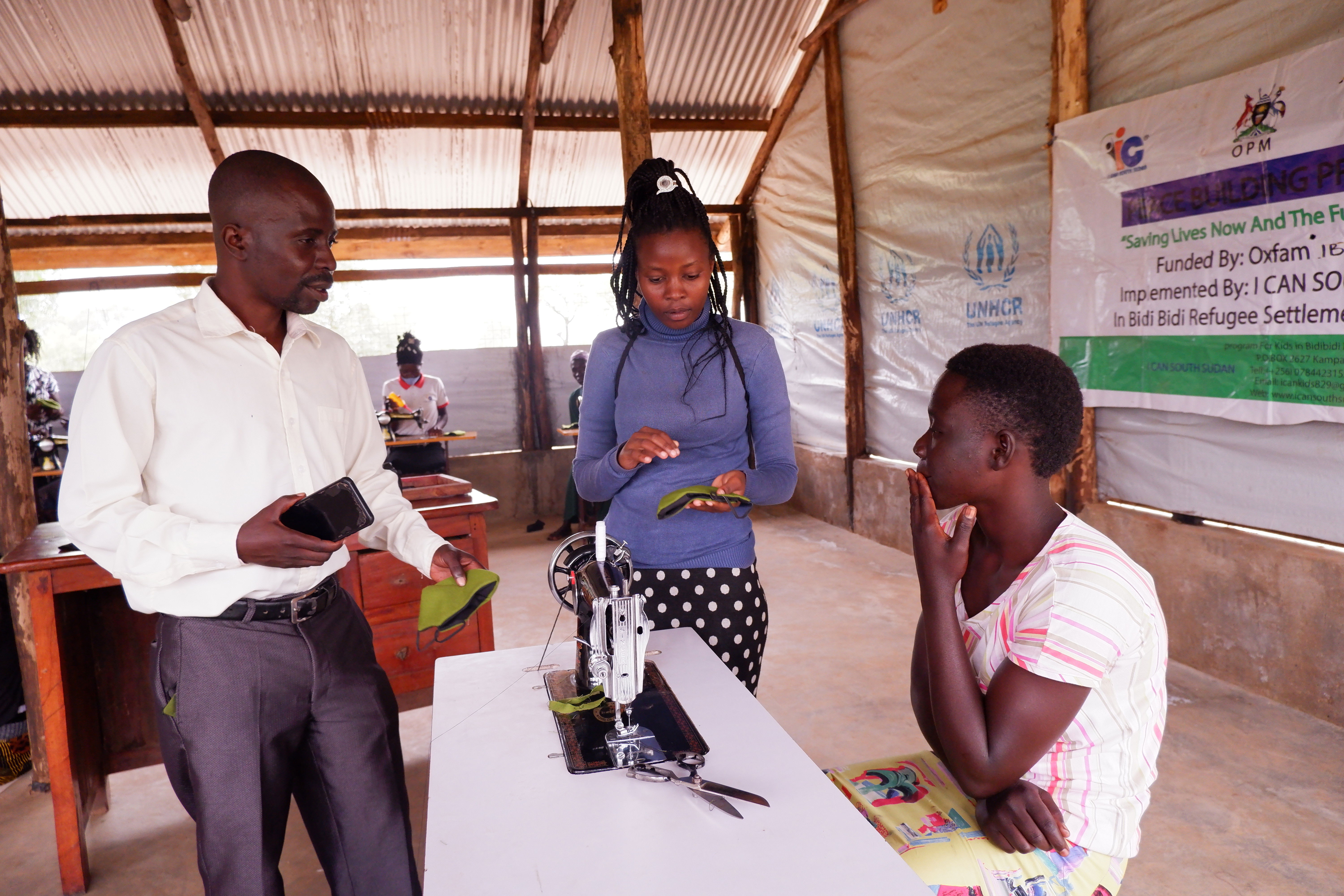 In the three (3) weeks of this face mask production, the below have been realized
The women were able to catch up so quickly with the production of the face mask and they are able to cut and sew the face mask beautifully and there has been team work and unity regardless of the tribes or nationality
On the first day the women produced 76 face mask and on day two they produced 146 face masks. This kept improving and the women were able to produce 450 face masks per day.
As of 23rd July 2021, the women were able to produce 1,002 face mask which was our first bench mark in the journey to 4,000 face masks and By 4th August we were able to produce 2,526 face masks
On 6th August we concluded the production of the face mask. The total face mask produced are 3,211, however our initial target was to produce 4,000 face masks
Some of the Challenges we encountered in the process of production are
Lunch and breakfast were not budgeted for and we had to find ways of adding lunch and breakfast for the women
There were other women coming from far distance and they arrived late for the training and production
Training materials were not procured and we had to find manila papers for them to train with
More machines were breaking down and require repair and this increased on our expenditures
The printing of both I CAN South Sudan and Oxfam logo on the face mask delayed due to break down of the first screen made, this prompted us to make more screens in Yumbe at higher costs.
We appreciate the efforts of the women and congratulate them for the great work done. The 150,000 Uganda Shillings paid to each of the women can not express our appreciation for their wonderful job but we believe this will help them put food on the table for their children
Distribution of the face mask will start next week after a sample is presented to OPM and UNHCR. The distribution will be through the refugee and host community leaders. The distribution plan is to divide the face mask per the 14 villages in Zone 1 and another to the Sub County and the leaders will then distribute the face mask to the community. Our main target for this distribution are women who are the majority in the settlement and women face difficulty when taking their children to the health center and other community center