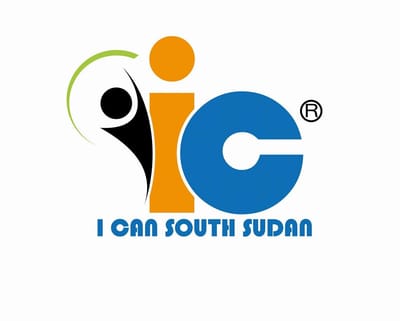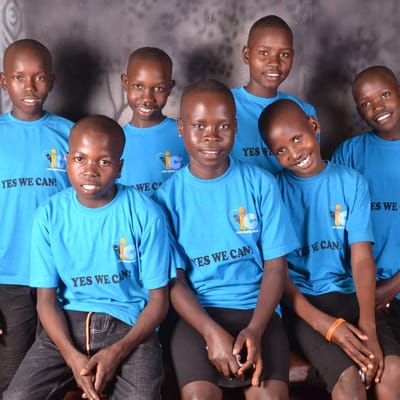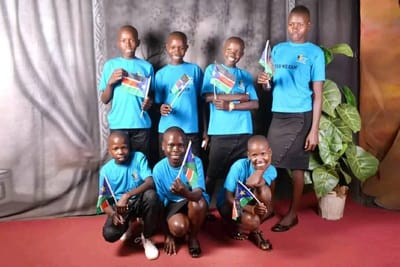 I CAN South Sudan is a Community-Based Organization (CBO) that aims to engage unaccompanied refugee children in social and musical activities. The aim is three-fold: to give them meaning, purpose and hope in their lives, to develop their skills and talents for the future, and to provide them with a voice to express their trauma and their desire for peace. I CAN was created by Mr. Stephen Wandu Bimo, Kyobutungi Angela and Seme Ludanga in October 2017. Stephen Wandu is a South Sudanese refugee and an experienced musician, who has worked with the Mbaraza Gospel Band, the Fire Gospel Band, and as singer-songwriter Ambassadeur Koko. He participated in the composition and writing of the South Sudanese national anthem and was elected President for Musicians in Western Equatoria State in 2010. He has previous experience with children, having worked as a musical teacher for primary schools in South Sudan, for Sunday Schools, and with street children. He is a father of three children of his own.Kyobutungi Angela is a single mother to her daughter, Anita. Her concern for the plight of unaccompanied refugee children led her to suggest the foundation of I CAN. Kyobutungi Angela is an experienced youth trainer, youth counselor and youth mentor. She has worked with Reproductive Health Uganda (RHU) as their District Based Trainer on the project Youth Empowerment Through Agriculture (YETA).

Mission

I CAN has three main aims: To inculcate a sense of meaning, purpose, and hope in the lives of musically talented unaccompanied refugee children living in refugee settlements in Northern Uganda. To develop musical and performance skills and talents in these children that will ultimately allow them to pursue a career in these areas of the creative arts, including the preservation of the distinctive musical culture of South Sudan. To provide unaccompanied refugee children with a voice to express their trauma and their desire for peace.

Goal

The goal of the project is to reach the maximum number of unaccompanied refugee children possible. In May 2018, we secured start-up funding of Euro 5,000 from Misereor based in Germany to begin the project. This was sufficient to pay for phase– one of the projects, which trained 20 children for 6 months. The aim of the project is to evidence success, such that further funding is obtained to roll out the program to reach a greater number of children.

Motto: Yes We can!